Lake Buena Vista Resort Village & Spa
Orlando Timeshare Promotion
3 Nights in a Two Bedroom Condo Plus $200 Visa Gift Card
Price for the whole family for the entire stay with - Resort Preview
starting at
$399
During Value Season: January 6 - January 31 | April 24 - June 13 | August 8 - November 17 | November 27 - December 22
3 Nights of Luxury Accommodations plus $200 Visa Gift Card per family.
Two Bedroom Condos (sleep 6)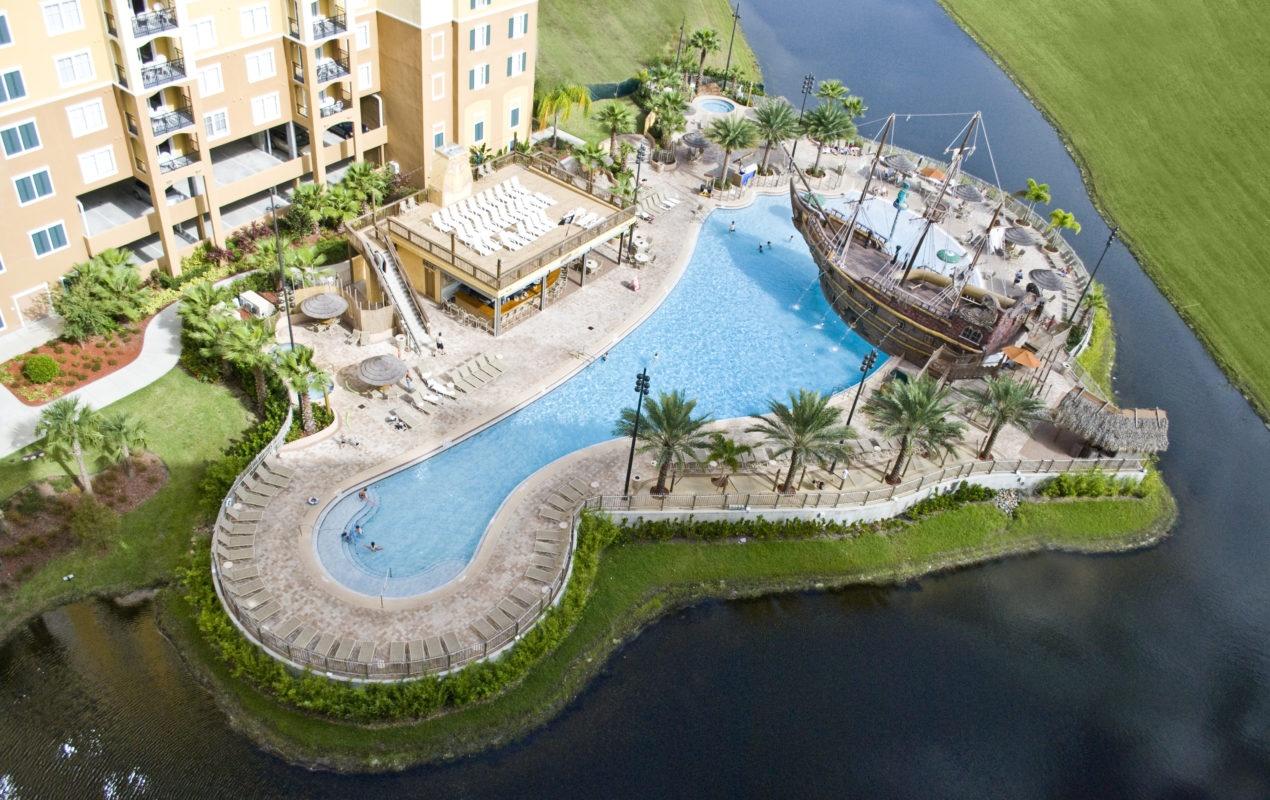 Calculate the Price of Your Vacation
Please select your choice of room type and number of nights from the fields below, and then click the calendar on your desired arrival date.
Select Total Number Guests Including yourself
* You, and your spouse/significant other if married or cohabiting, must attend a 120-minute staySky Vacation Club sales presentation. Please read the Terms & Conditions for this promotion to see if you meet the minimum eligibility requirements.
Your Discounted Price
For the whole family, for your entire stay!
$
* Resort Preview Rate
---
---
Room taxes (12.5%) Plus $15.45 Daily Resort Fee are not included and are due at Check-In.
The retail value of this package may depend on room availability, additional features and travel dates selected. You must complete your stay within 12 months from date of purchase.
Qualifications
staySky Vacation Club Promotion Terms and Conditions:
Qualifications
Guests who fail to meet the qualifications listed below, will not be able to check in at the resort and will forfeit the package price paid
Attendance to a 90 to 120 minute sales presentation at staySky Vacation Club Sales Center is required.
A valid, active MAJOR CREDIT CARD will be requiered to check in at this resort.
THESE PACKAGES ARE PREPAID AND YOUR CREDIT CARD WILL BE CHARGED IN FULL WITHIN 24 HOURS OF MAKING THE RESERVATION REQUEST.
Both husband and wife must be between 25 and 70 years of age.
Married, or a cohabiting couples must have a combined Gross Annual Income of at least $60,000.
Single Women between the ages of 30 and 70 years of age, qualify with a Gross Annual Income of at least $60,000.
If married, engaged, cohabiting, or a single traveling with a companion, or otherwise similarly committed, both persons must attend the sales presentation together.
Have not participated in a staySky Vacation Club sales presentation within the past 18 months.
Bring, as proof of ID, one picture ID verifying residence at the same address, and one major credit card (American Express/MasterCard/Visa/Discover).
Debit or pre-funded cards are not accepted.
Both parties attending the sales presentation must understand, read and speak fluent English, Spanish or Portuguese without the benefit of an interpreter.
If you and your spouse or cohabiting partner (if applicable) are eligible for the incentive, then both of you must attend and complete the entire presentation on vacation ownership.
Our presentation is designed to last for approximately 90 to 120 minutes; however, under certain circumstances it could last longer.
This vacation package is non-refundable.
staySky Vacation Club owners are not eligible for the promotion.
This offer is NOT available to citizens of the following countries: Argentina, Brazil and India. Citizens of these countries residing in the United States must show at check in, proof of full legal residency in the USA.
This offer is NOT available to residents of the following states: Alaska, California, Hawaii, Idaho, Montana, Nebraska, Nevada, North Dakota and South Dakota. In the State of Florida, residents of Brevard, Broward, Dade, Hillsborough, Lake, Orange, Osceola, Polk, Seminole, or Volusia Counties are not eligible for the promotion.
No more than one family. (no families or friends travelling together with the same promotion).
Terms & Conditions
No "group" tours will be accepted, no more than two families occupying the same villa. If you have a reservation with us, we cannot offer another reservation to other friends or relatives of yours, but they can stay with you in your villa if the maximum occupancy allows it. All reservations are subject to availability and based on a first come, first served basis. Failure to attend the sales presentation, or failure to qualify for this promotion, will result in a charge to your credit card of $375 as a penalty fee. This vacation package is non-refundable; however, it can be rescheduled one time upon 72 hour advance notice and is subject to a $25 rescheduling fee. In the event you cannot travel on your scheduled dates, you must give at least 72 hours advance notice of cancellation to avoid "no show" charges. Failure to give 72 hour notice, will result in forfeiture of your vacation package. Should you desire to re-schedule your arrival date, simply let us know prior to 72 hours in advance of this confirmed arrival date, and based upon availability, we will assist you in selecting other travel dates within the next 12 month period. No refunds for early departures. Offer subject to change without notice. This offer is not transferable and is not valid in conjunction with any other offer.
OUR SERVICES ARE LIMITED TO MAKING THE RESERVATION ON THE HOTEL OR RESORT YOU SELECT, PAYING FOR SUCH ACCOMMODATIONS AND (IF INCLUDED IN THE PACKAGE) PAYING FOR THE ATTRACTION TICKETS SELECTED IN THE RESERVATION. ALL INCIDENTALS AND HOTEL/RESORT FEES ARE THE GUEST'S RESPONSIBILITY. TAXES ARE THE GUEST'S RESPONSIBILITY, UNLESS INDICATED IN THE PRICE DISCLOSURE. WE ARE NOT RESPONSIBLE FOR THE ACTUAL FULFILLMENT OF THE SERVICES FROM NEITHER THE HOTEL NOR RESORT SELECTED, AND ANY COMPLAINTS SHOULD BE ADDRESSED DIRECTLY WITH THE SERVICE PROVIDER (HOTEL OR RESORT'S FRONT DESK).
A VALID MAJOR CREDIT CARD WILL BE REQUIRED TO CHECK-IN AT THIS RESORT. YOU WILL NOT BE ABLE TO CHECK-IN WITH A DEBIT OR PREPAID CARD
IMPORTANT NOTE: Participants in the promotion who do not meet the qualifications set forth in the above Details of Participation, including those who fail to attend the sales presentation, will have charged to their credit or check card a $375 penalty fee. Participants with confirmed reservations who fail to check into their reserved accommodations on the first reserved date or who fail to reschedule their reservations AT LEAST 72 HOURS IN ADVANCE OF CHECK-IN DATE will forfeit the package purchase price. By making a reservation in response to this promotion, you are agreeing to this policy.
THIS ADVERTISING MATERIAL IS BEING USED FOR THE PURPOSE OF SOLICITING SALES OF TIMESHARE INTERESTS.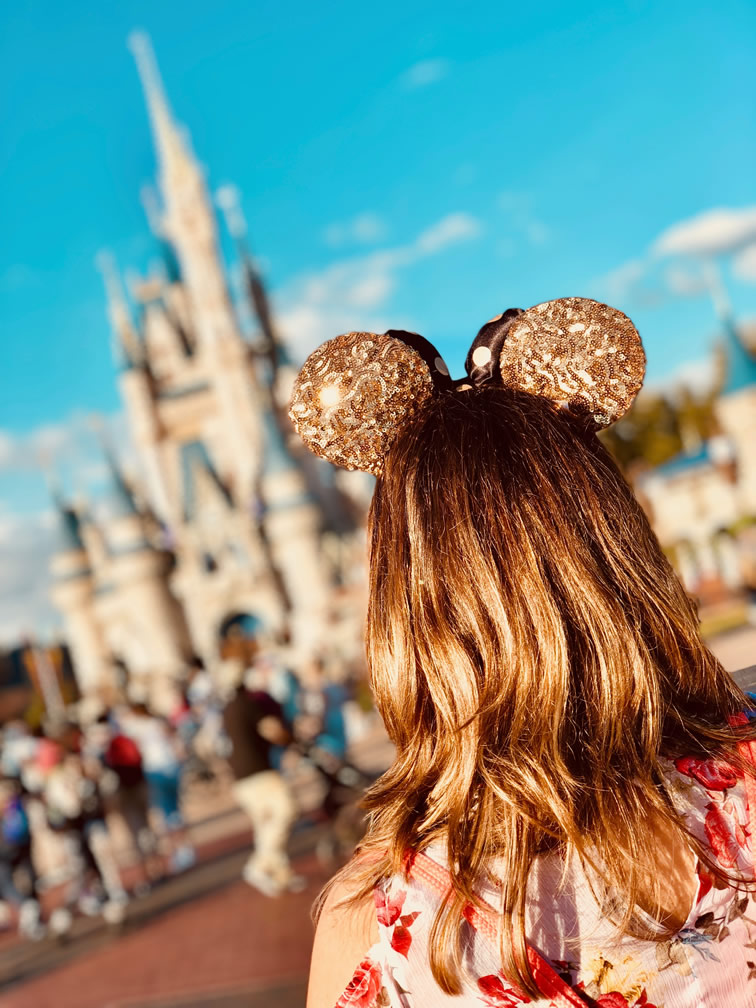 ---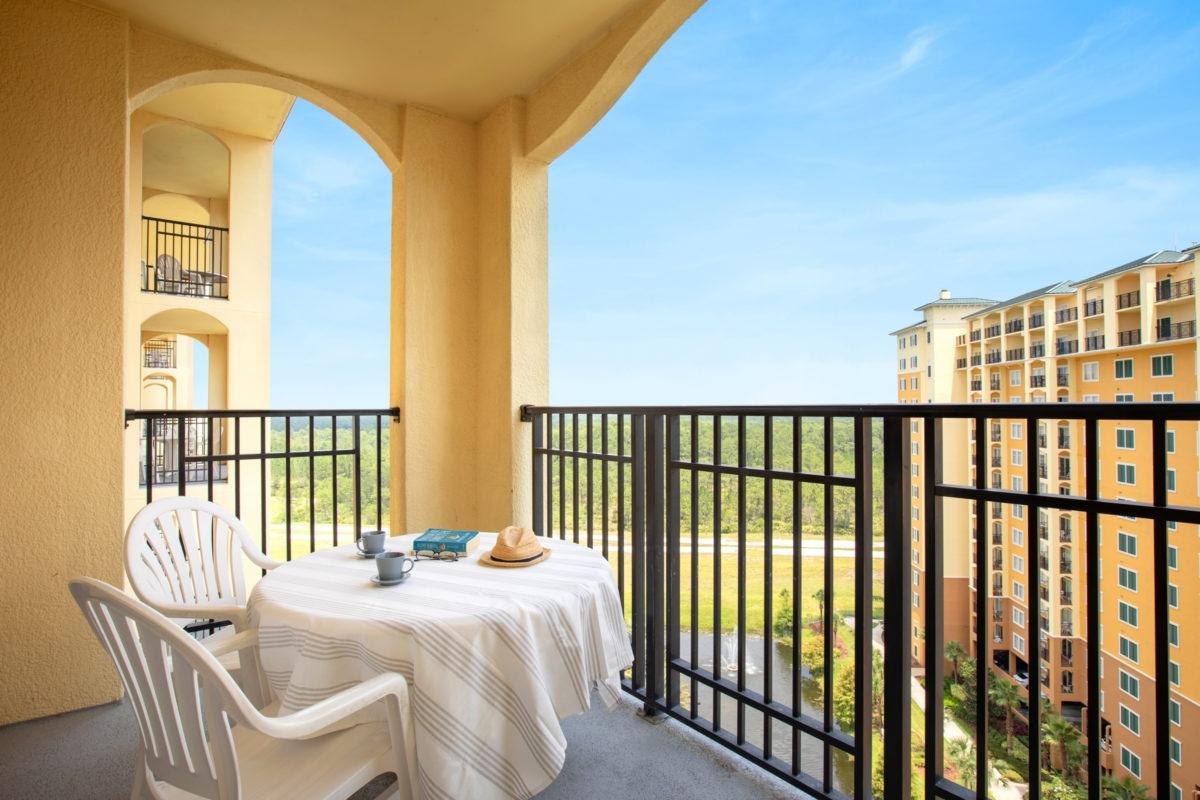 Lake Buena Vista Resort Village & Spa
If location is everything then Lake Buena Vista Resort Village & Spa has it all! Our Orlando hotel suites are located just a few miles from Walt Disney World® Resort and designated as a Walt Disney World Good Neighbor® Hotel is an all-suite self-catering resort and the perfect spot for your upcoming visit. Lake Buena Vista Resort Village & Spa invites friends, families, and kids from 2 to 92 to experience Orlando, Florida's finest in lavish hotels! Our Walt Disney World Good Neighbor® Hotel and resort is conveniently located at 8113 Resort Village Drive, Orlando, FL 32821. TripAdvisor's 2020 Travelers' Choice Best of the Best means extra large rooms for families kids love the Kids Club and Pirates Plunge Pool at our Orlando hotel suites. Families can't wait to enjoy a great game of golf or order from Publix Grocery Delivery for their favorite foods. Guests bask in our family-style ambiance at onsite pools or while visiting upscale dining and shopping venues and surrounding theme parks. Reflections Spa offers Princess Makeovers and for those little swashbucklers, we offer a Pirate Takeover complete with a bandana, eye patch, and face paint. TripAdvisor reviewers recognized Lake Buena Vista Village Resort & Spa as a Best Family Hotel and we are recognized as a Walt Disney World Good Neighbor® Hotel for offering quality self-catering accommodations at affordable prices. Lake Buena Vista Resort Village & Spa offers one-, two-, three- and four-bedroom condo-style suites with full kitchens (only Two Bedrooms available through this promotion). Visit Lake Buena Vista Resort Village & Spa for a Whole New Experience! Your stay at Lake Buena Vista Resort Village & Spa is a vacation in itself. You don't necessarily have to leave our Orlando hotel suites to have a fabulous time with family and friends.  Full-service spa and salon for those really relaxing moments. State of the Art Fitness Center.  Scheduled shuttle transportation opportunities are available to visit the world-famous Walt Disney World® Resort. Come and enjoy fabulous adventures, savings, and discount opportunities that make Lake Buena Vista Resort Village & Spa in Orlando the place to go for making incredible memories of a lifetime. This is only the tip of the iceberg of exceptional amenities here at Lake Buena Vista Resort & Spa in Orlando. Come and experience living and relaxing at its best. You will be glad you did.
Accommodations
Enjoy 2 bedrooms and 2 baths in 1080 square feet of family space. The living room includes a sleeper sofa, flat-screen TV, dining area with seating for 6, and a beautiful kitchen with granite countertops, cherry wood cabinets, and full-size appliances, including refrigerator and freezer with icemaker, stove/oven, and dishwasher.
The kitchen is fully equipped with dishes, glasses, flatware, and cookware.
The master bedroom features a king-size bed, flat-screen TV, and master bath with an oversized jetted tub.
The second bedroom offers two full-size beds, and flat-screen TV, and a second bath.
The expansive private balcony completes the 2 bedroom suite. Additionally, you have the option to choose a standard view, pool view, or fireworks view in the two-bedroom suite.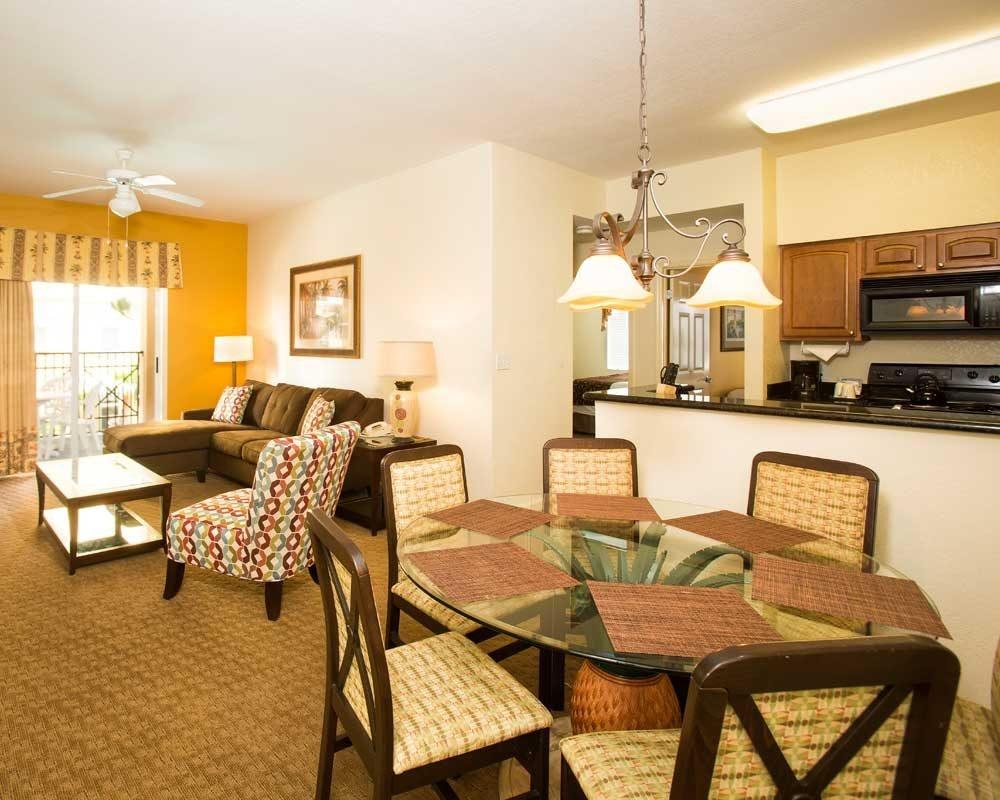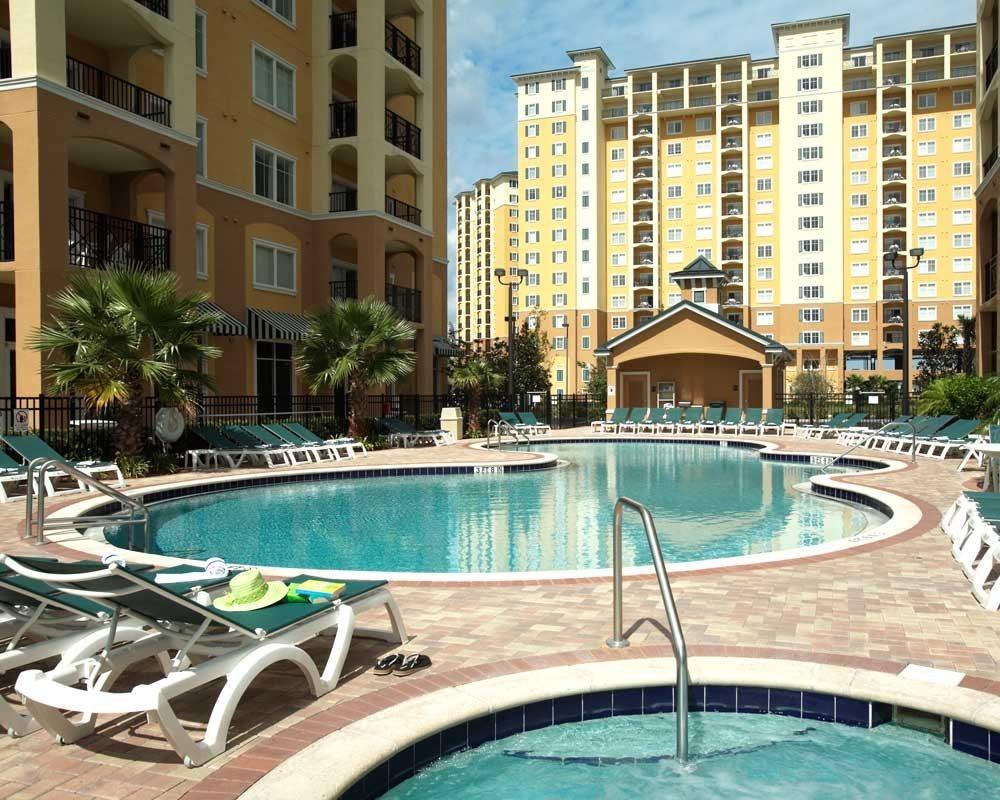 Our luxury Orlando resort is a full-service luxury destination offering something for everyone to enjoy. Whether you are bringing your family for a fun vacation or attending a meeting or conference in Orlando, we have something for you.
Splash into our 'Pirates Plunge' resort pool, work up a sweat in our 24-hour fitness center, or enjoy a relaxing massage in our full-service spa. We have it all!
NEW Little Pirates Playground – NOW OPEN!
Meeting Room
Personalized Housekeeping Services (Nominal Fee)
Kids Club – currently unavailable
Wireless Internet Access (Included in Nominal Resort Fee)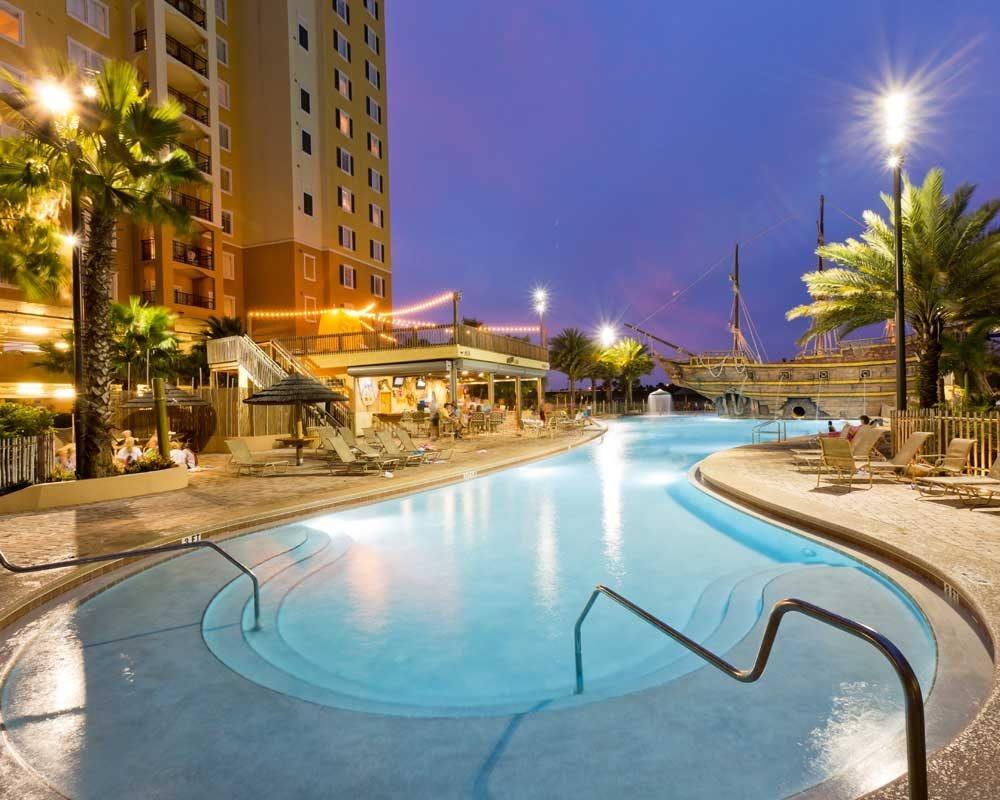 Pirates Plunge Themed Pool – OPEN
Relaxation and Reflection Second Pool – OPEN
Reflections Full-Service Salon & Spa – OPEN Thursday-Sunday
Lani's Luau Poolside Bar & Grille – OPEN
Frankie Farrell's Irish Pub & Grille – OPEN
Pizza Hut Café Express – (OPEN Daily 5p – 12 am)
Convenience Store & Gift Shop – (OPEN Daily 7 am – 1 am)
Disney Parks Shuttle – (Paid Shuttle Service Available)
Lake Buena Vista Factory Stores – OPEN
24-Hour Fitness Center – OPEN
Game Room – OPEN
24-hour Reception Desk and Check-in – OPEN